SteakHut Partnership with Betswirl to help bring automated and optimized liquidity to the $BETS Arbitrum liquidity pool on Trader Joe V2.
With SteakHut, users may now contribute liquidity to the Trader Joe V2-powered $BETS-$ETH pool, which is an AMM with focused liquidity. SteakHut Partnership with Betswirl, SteakHut automates rebalancing to keep liquidity in range and earn swap incentives for users.
Concentrated reward farming lets users stake their "SH LB Tokens" to receive bonuses on top of their liquidity positions.
The Betswirl team has created a concentrated reward farm to boost liquidity provider's rewards by earning bonus $ETH tokens.
How to participate and earn BONUS $ETH
2: Switch to the Arbitrum network and locate the BETS-ETH liquidity vault
3: Stake $BETS and $ETH into the liquidity vault
Note: SteakHut operates using concentrated liquidity vaults. When depositing the ratio of assets may differ from the 50:50 ratio used by traditional AMMs.
If you stake one token, the Interface will compute how much of the other to stake.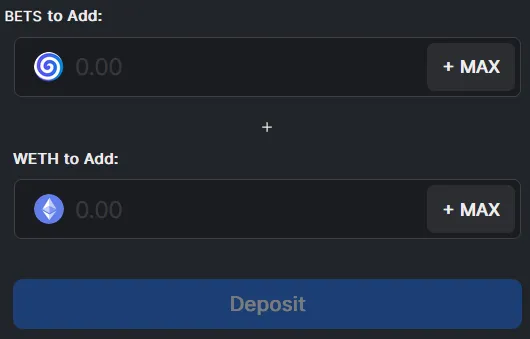 Step Four: Farm your tokens!
Use the SteakHut boost to deposit your "SH LB Tokens" and earn BONUS $ETH rewards on top of liquidity vault swap rewards!
Note: After depositing tokens, "My TVL" will appear under boost.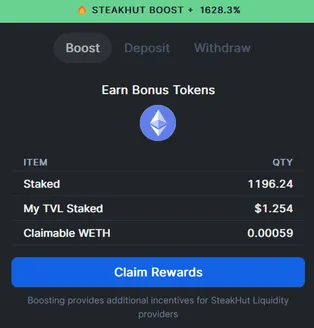 About Betswirl
BetSwirl is an online cryptocurrency gaming platform, fully decentralized and anonymous, where everyone can enjoy a fair play, a fun time and an innovative gamer experience.
About Steakhut
SteakHut Finance is an Avalanche native yield and liquidity aggregator. SteakHut offers a diverse portfolio of tools for individuals, and protocols to unlock the full potential of DeFi.
SteakHut's liquidity provisions are a first-of-a-kind decentralized market-making platform enabling projects to create deep liquidity on the Trader Joe DEX V2.Users can access a range of liquidity provisions from passive to actively managed strategies, taking the work and complexity out of their liquidity management and automating the process for complete efficiency.
SOURCE: https://medium.com/@SteakHut/steakhut-launches-betswirl-reward-farm-f51620ab105f
The post SteakHut Partnership with Betswirl appeared first on Smart Liquidity Research.